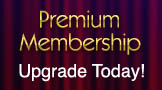 17. Cross Chasse
Fact Sheet
Official Name:
Cross Chasse
Dance / Level:
Full Bronze Quickstep
Aliases:
LF Forward Change to Outside Partner
Suggested
Prerequisites:
None
The Cross Chasse is a very simple variation consisting of 3 steps, taken to the counts "Slow, quick quick", similar to a LF Forward Change in Waltz. What makes the Cross Chasse unique is the slight shift in position that occurs over steps 2 and 3, so that the man will step outside partner on the lady's right side on the first step of the following figure.
It is a rather unusual circumstance in Quickstep where the man will find himself facing diagonal wall with his left foot free at the end of a figure, but here are some of the possibilities:
Natural Turn with Hesitation, taken at a corner
Double Reverse Spin, ended with man facing diagonal wall
Reverse Pivot, ended with man facing diagonal wall
The Cross Chasse can also be taken with 1/8 turn to left, either beginning with man facing wall, diagonal wall, or line of dance, to end facing diagonal wall, line of dance, or diagonal center, respectively. Since there are no figures in the bronze level that commence with man's right foot toward diagonal center, the latter option is only available in the silver and above levels.