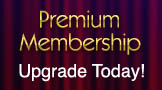 I also dance at a chain studio. My instructors are phenomenal. In the four years I have been there, I have learned so much and am truly addicted to ballroom. I'm also in my 60s and challenged to retain steps and techniques from week to week. I video new steps and exercises during class but it does take time away.

I am a heavy user of resources like this site as I learn international standard - my great challenge and love. I think that far from replacing lessons, this sort of resource augments skills, builds confidence and hones technique. For me, any progress I can make between lessons makes me MORE likely to take further lessons and learn more steps and details.

I know that the chain managements make big changes slowly and carefully - as they should - but maybe if we keep pushing and reasoning with them someday they'll create this resource! Or maybe they could cooperate with sites like this that already have much of the production in place. That would work for me!

My mantra in life is that information is always to be sought, analyzed and used! I hope you are listening, franchisees!
These schools and their offshoots are deplorable. But, just to lighten things up a bit, go to the AM web site at http://www.arthurmurray.com/index.htm

The site's intro is hilarious. If you're from my age group, you might think you are watching a bad parody of a 1970s television show introduction. Maybe like Charlie's Angels or something. It's so bad that it's funny.

Ladydance, what your friend experienced is disgusting. It's good she had the fortitude to leave.
My wife and I take lessons at the Sterling Heights AM studio and are quite happy with how we are treated and our instructors. They do have some policies that I don't always agree with and have said so and kid them about, but it's their policies set forth by AMI. I'm not aware of any unreasonable local studio rules. I cannot comment on the exchange policies within in the immediate area but I have very easily taken exchange lessons while travelling and have been recieved well and had great instructors as recently as last week in Chicago.

As far as gossip goes that is human nature and goes on every where in any kind of business, if it is in earshot of students or a customer that is poor judgement by an individual. I'm willing to bet there is just as much or more gossip on the sudents side about instructors as well as other students and not very discretely at times.

In regards to cost, at first look it is pricey but when you consider all the available group lessons and practice session that are open to me it is comparable to many independent studios that I have researched. Other places one would have to pay for each group lesson in addition to the private lessons, we try to take advantage of every opportunity.

It is unfortunate that someone was told they needed permission from an instructor to go dance anywhere else in the city. The point of taking lessons anywhere is to go out and dance whenever and where ever. In fact it is encouraged, supported and opportunities pointed out by instructors of places to dance. We have run into AM students at many of the area dances other than AM events. Just last weekend there was an opportunity at another AM studio, too bad we could not go because we heard everyone had a great time. We all share information about dancing, one student even sends out e-mails to keep anyone interested informed of places to dance. In fact earlier this week there was a discussion how we could inform other AM students from surrounding Studios so that we can all have a good time dancing together.

We have a lot of fun at the Arthur Murray Studio in Sterling Heights, made many new friends, including instructors and owners, and we even learn to dance. It's a nice facility, sometimes we forget that it's a business. As in any business not everyone is happy all of the time. As Waltz123 said if it were not for franchise studios many of us would not be dancing.
Not only may you not be dancing.. but.. hundreds of teachers would possibly NEVER have taught (I know.. theres some that shouldnt have any way )

The contributions made by people in the chain school system over the yrs, is quite remarkable ( on a world class level )

I do dis approve of the tactics that do exist in some schools.. but remember.. they are independantly owned , and reflect the views, by and large of the owner (Co. policies apart )..

I have over the yrs ,come across numerous independants who were less than desirable ( they exist even in my small area )
| | |
| --- | --- |
| | pgruener - I agree that there are many benefits to the Arthur Murray program, and I have received some good instruction, but your point about going out wiht students from other Arthur Murray's is EXACTLY the issue here. I too have met excellent people from other Arthur Murrays in the area, and this is how this problem came up in the first place... my studio, Ann Arbor, said I was not allowed to take any lessons with a person from another SE Michigan studio and we were not allowed to visit one another's studios to practice together. |
dpalincs, When I spoke of going out dancing with other AM Studio students I was referring to other venues, not at AM unless it was an open to the public event such as the dance this past Saturday. In regards to combining lessons with students from other studios and practicing at other studios, I don't know the policy and as I stated before, I cannot comment on that.
From an adminstrative and operational view I would guess that to be a nightmare to control since they are individualy owned franchises and businesses. It also has the potential to crowd a facility and inconvenience other regular students at that studio, but that is my view.

For practicing and dancing with others there are numerous places to go at a very reasonable cost $5 - $10. One is right in Ann Arbor at UofM on Sunday nights, huge dance floor. A group of us has come across town and we had a great time and plan to return. On Facebook there is a Southeastern Michigan Arthur Murray Studios page perhaps some of the places we go to can be listed, check it out. I believe AM Sterling Heights made mention of several places. Hopefully we will see you at some of the events, we always have fun.
| | |
| --- | --- |
| | Dpalincs, there are threads and threads and hundreds of previous posts regarding chain studios, policy practice, charges and the like. I too, when i started was with AM in Southern California. It was not a problem to attend group party nights at other AM venues - however that was the call of the franchise owner(s). Some other regions, here, the owners would prefer you go outside the 25 mile boundary. The social circles that develop in the AM studio - get together and find a dance e.g., as other posters have suggested in your area - and all of you go to it. Or you and your friend go to a dance venue. It takes some research, and yes, there are policies that can leave you scratching your head, for the most part it's a matter of protecting ones business student income from going elsewhere. We left AM years ago, and while we loved our instructors - the owner/managers literally drove us nuts with the policies. We found plenty of other independent studios and teachers that had no problem with us visiting, or going to someone elses dance/show/party/open houses - etc etc. Good Luck! |
This sounds more like the fault lies with either the franchisee or the manager of the studio (if they're different people).
My wife and I have gone to an AM in Morton Grove IL for a few years now, and not only have we taken lessons (and attended parties) at other AM studios (owned by other franchisees), there's even a standard AM form that the branch you're visiting sends to your regular branch.
The Chicago franchisee seems to run a very tight ship, and the instructors have never been anything other than completely professional both in their conduct in the studio and in their teaching methods.
| | |
| --- | --- |
| | Big time difficulties. A cookie cutter approach, and if anything happens to you--a move, a debilitating illness--you won't get a penny back for unused lessons. You will be stonewalled. This is what happened when my wife became ill last spring. Check out "Arthur Murray Dance Studios Ann Arbor" at ComplaintsBoard.com for the story of someone who lost $800 to the studio because of a job transfer.I might note that Curves was very compassionate toward my wife when refunding the unused portion of the package deal she had with them. |
Again, each studio is independantly owned, and the obligation by each studio is normally up to the franchisee.

I have worked for both A/M and F/A in past yrs , and there are decent and good owners, and some that are otherwise.

One should not use a broad brush to decribe the whole organisation .