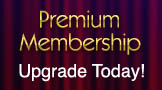 1. Feather Step
Fact Sheet
Official Name:
Feather Step
Dance / Level:
Intermediate Bronze Slow Foxtrot
Aliases:
Feather, Continuity Run
Suggested
Prerequisites:
None
The Feather Step is the Foxtrot version of a Right Foot Forward Change, consisting of three progressive forward steps danced to the counts "Slow, quick quick". Being a type of Change Step, its general purpose is to follow a Natural Turn and prepare a ReverseTurn, however, its most common application is to be the introductory movement of the dance.
The man begins in line with the lady, facing diagonal center and takes 3 forward steps, starting with the right foot. The body turns slightly to right so that the second step on his left foot is taken with the left side slightly in advance, preparing to step outside partner on step 3. The man and lady then return to an inline position as they continue into the first step of the following figure. The lady's part is the natural opposite, beginning with her left foot back.
When the Feather Step is taken as the first figure of the dance, it is often preceded by a single preparation step. This "prep step" is taken on the man's left foot (lady's right), partners dancing in line, to the count of "slow". There are two versions of the prep: (1) Man stepping forward on his left foot, with the right side slightly in advance of the left, or (2) Man stepping back on his left foot, left side leading. Note that the video demonstration includes the forward version of the prep step.
Types of Feather Step
The Feather Step has several variants, based primarily on the starting position and direction of movement:
Basic Feather Step
As shown in the man's and lady's charts.
Feather Step from O.P.
Same as the basic Feather, but beginning with man stepping forward outside partner on lady's right side.
Feather Finish
Begins with man stepping back on his right foot (lady forward on her left), turning 1/4 or 3/8 to left. See Reverse Turn and Feather Finish for breakdown.
Feather Finish from O.P.
Begins as Feather Finish with man stepping back on his right foot, but with lady outside partner on man's left side.
Feather Ending from Promenade Position
Begins in promenade position with lady turning 1/4 to left, closing to man, to end with man stepping outside partner on the last step.
In addition to the variants listed above, there are several self-contained figures that are classified as types of Feather, such as: