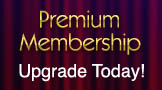 Slow Foxtrot
Reverse Turn and Feather Finish
4. Reverse Turn and Feather Finish
Fact Sheet
Official Name:
Reverse Turn and Feather Finish
Dance / Level:
Intermediate Bronze Slow Foxtrot
Aliases:
Foxtrot Reverse Turn, Heel Turn Reverse
Suggested
Prerequisites:
None
In simple terms, the Reverse Turn is a basic figure consisting of six steps that turns to the left and progresses generally down line of dance. Most of the ballroom dances have a figure called a Reverse Turn, each one having its own unique character based on the music, the actions involved, the amount of turn, the rise and fall, and so forth. The Reverse Turn of Foxtrot is notable for its elongated, passing steps and its distinct two halves. The first half contains a lady's heel turn, while the second half, known as a Feather Finish, ends with man stepping outside partner.
The first half of the Reverse Turn begins with the man facing diagonal center. He steps forward with his left foot, side with the right, then back with the left, turning 3/8 to left to end backing line of dance. The lady begins backing diagonal center and steps back with her right foot, closing her left foot to her right to dance a heel turn, and finishing with a forward step on her right foot in line with the man, having turned 3/8 to left to end facing line of dance.
The second half of the Reverse Turn, also known as the Feather Finish, begins with man stepping back on his right foot, side and slightly forward on his left, and finally forward with his right foot in CBMP, outside partner. The lady's part is nearly the natural opposite, except that her second step is described simply as "side". 3/8 turn is taken overall, to end moving toward diagonal wall, with the upper body turning slightly less to accommodate the outside partner position on the final step. As with the Feather Step, the man and lady will return to an inline position on the first step of the following figure.