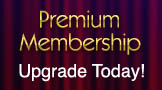 1. Natural Turn
Fact Sheet
Official Name:
Natural Turn
Dance / Level:
Beginning Bronze American Viennese Waltz
Aliases:
Right Box Turn
Suggested
Prerequisites:
None
In Viennese Waltz, the Natural Turn is a progressive figure consisting of 6 steps taken in closed position, where one full turn to the right (clockwise) is completed over the course of the pattern. Many Natural Turns can be danced consecutively, allowing the couple to move freely down the line of dance while continuing to turn to the right.
The foot pattern is similar to the Right Box Turn in Waltz (figure #2), but with each step taken directly down line of dance, resulting in 1/2 turn to right for each three steps. In the first measure, the man steps right foot forward, left foot side, and closes right foot to left foot, all steps placed along the line of dance while turning to the right. In the second measure, he steps left foot back, right foot side, and closes left foot to right foot, also moving down line of dance while turning to the right. The lady's part is the natural opposite; Her first measure is his second, and vice-versa.
As in the Waltz, Natural Turns are often danced in a sequence with Reverse Turns, using Forward or Back Closed Changes to transition from one to the other. However, the speed of Viennese Waltz makes it cumbersome to switch back and forth from left to right turns so frequently. And since the turns are repeatable when danced with 1 full turn, it is customary in Viennese Waltz to dance a few turns in one direction before changing to the other.
As a general rule, the line of dance should be thought of in Viennese Waltz as a continuous curve around the room, rather than a square or rectangle with corners. As one dances toward a corner, the alignments of each figure should be altered, so that the resulting direction of movement is bent smoothly and gradually around each corner. The Natural Turn is a perfect figure for serving this purpose: Because the line of dance is counter-clockwise, and the Natural is a clockwise turn, it can be underturned quite easily, resulting in a smooth curving movement around a corner.