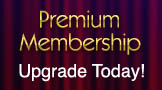 10. Back Spot Turn
Fact Sheet
Official Name:
Back Spot Turn
Dance / Level:
Full Bronze American Viennese Waltz
Aliases:
Spot Turn to Right, Natural Top, Fleckerl
Suggested
Prerequisites:
None
The Back Spot Turn is a figure borrowed from Cha Cha and Rumba, where man and lady turn around each other on a spot while in dance position. Not to be confused with the Spot Turns of International Cha Cha and Rumba, the Back Spot Turn in American style Waltz and Viennese Waltz is closer in composition to the Natural Top of International style.
Back Spot Turns are essentially composed of only two steps, which are repeated to the timing of the dance. In Waltz and Viennese Waltz, with each step taking one beat, three pairs of steps fit neatly into two measures of music. The basic Back Spot Turn is therefore shown in the man's and lady's charts as being a figure spanning two-measures, but at it's core is an action consisting of two steps.
On the first step, the man turns to his right and steps to the side on his left foot, as though to be stepping around a small circle. The rotation is strong enough that the lady must step forward on her right foot, between his feet. On the second step, he continues turning to thr right and crosses his right foot behind his left, while the lady steps forward on her left foot around him. As she continues to turn, this step finishes to the side. Each step takes one beat of music, and the action is repeated to the counts "One, two, three, one two three".