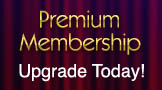 4. Six-Count Underarm Turn
Fact Sheet
Official Name:
Six-Count Underarm Turn
Dance / Level:
Beginning Bronze American Style Waltz
Aliases:
Underarm Turn to Right, Box to Underarm Turn, Basic Underarm Turn, Outside Underarm Turn
Suggested
Prerequisites:
Left Box (Reverse) Turn
The Six-Count Underarm Turn is a unique dance figure popular with social dancers and wedding couples. Whereas the majority of underarm turns in the bronze syllabus are completed in 2 to 3 steps, this underarm turn with its broad and gradual nature takes a full 6 steps to complete.
The man begins leading the turn as he steps back on his right foot, typically following steps 1-3 of a Left Box, LF Closed Change, Hesitation, or other similar pattern (For a complete list of preceding figures, click on the "Preceded By" tab). By lifting and slightly extending his left hand outward, he creates space for the lady to dance underarm. With gentle pressure from the right hand on her back, he leads her to walk under the raised LH-RH hold while he dances a RF Closed Backward Change. By the end of the third step she will have passed underarm, and by the fourth step the couple should be in side-by-side position. Steps 4-6 are effectively a Box Turn from side-by-side position (forward, side, close), where man and lady turn to face each other.
Because this is a spot figure, it may be danced on any alignment and in any part of the room. However, as spot figures go, it does tend to take up a considerable amount of space, so it should be used sparingly and only when there is ample space on the dance floor.
Variations of Turn
The recommended amount of turn for the Six-Count-Underarm Turn is, as written in the chart, 3/4 to left for lady (man turning 1/4 to left over steps 4-6). However, there are popular variations to this amount of turn that suit different situations:
Lady takes 1 full turn over steps 1-6; Man has no turn. This is the most compact variation of the turn, so it's well suited to small, crowded floors. It's popular with social dancers and wedding couples, and is often taught to newcomers to simplify the concept from a teaching perspective. In this version, the lady will take 6 forward walks in a circle, rather than dancing a side-close action over steps 5-6.
Lady and man each take 1/2 turn over steps 1-6 (1/4 each over 1-3 and 1/4 each over 4-6). This is the broadest and most voluminous version of the figure, popular with competitors and show dancers who like to occupy the maximum amount of space. It begins in a similar manner to a Cross-Body Lead, with the man opening his left side away from the lady.