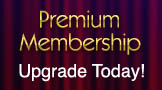 11. Reverse Pivot
The Reverse Pivot is a figure consisting of just one step: A left-turning pivot taken back on the man's right foot in CBMP (forward on the lady's left), taking a two beats of music, counted "slow".
The Reverse Pivot can begin with man backing line of dance, following a Chassé Reverse Turn, backing diagonal center following a Natural Spin Turn, or Backing DC against LOD following a Closed Impetus or underturned Natural Spin Turn. It can turn as little as 1/4 or as much as 1/2 to left, and can be followed by most reverse turning figures, including Progressive Chassé to Right or Double Reverse Spin.
A note on footwork: The Reverse Pivot has a very interesting type of footwork, described in the technical charts as "toe-heel-toe" for the man. This is an indication that the weight should be held toward the ball of the foot throughout the step, which enables the foot to pivot easily. Nonetheless, the heel should be allowed to lower and remain in light contact with the floor, so that the body does not rise unnaturally while weight is taken on the foot.