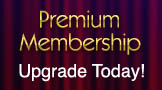 6b. Reverse Endings
Another of Tango's interesting quirks is the variety of endings of many reverse figures used to alter the final dance position and options for patterns to follow.
Many figures in their most basic form are usually taught with what is called a Closed Finish. The Closed Finish is the last 3 steps of any of these figures and is danced as follows: (1) Right foot back in CBMP, (2) Left foot side and slightly forward, (3) Close right foot to left foot, slightly back. The lady has the natural opposite.
You can see examples of the Closed Finish in the Rock Turn, Open Reverse Turn, Lady Outside (and In Line), Back Corte, and several other figures. However, the Closed Finish of any of these figures can be replaced by one of the following alternatives:
(1) Open Finish, where the man steps right foot forward in CBMP, outside partner on step 6 (count "slow"). This is followed by a figure moving forward on man's left foot.
(2) Promenade Finish, where the feet close on step 6 (count "&"), then man and lady turn to promenade position for a step 7 (count "slow").
(3) Open Finish to Promenade, a sort of hybrid between the above two variations, where step 6 is taken with man forward in CBMP, outside partner (count "&"), then man turns lady to promenade position on step 7 (count "slow").
(4) Checked Open Finish, as in the first variation, but where man checks his weight on his right foot on the final step, preparing to move backward on the following figure. This can be followed by any figure beginning with man back on his left foot, such as Back Corte, LF Back Rock, or Outside Swivel, taken with lady in CBMP, outside partner on the first step.